How would you like to have your child's birthday party at the Knightongale Farm?
*We also host any type of party you wish to have such as:  work events, family events, and church events.
Remember, we are open on WEEKENDS ONLY through October 30, 2017 from 10 a.m. to 5 p.m.!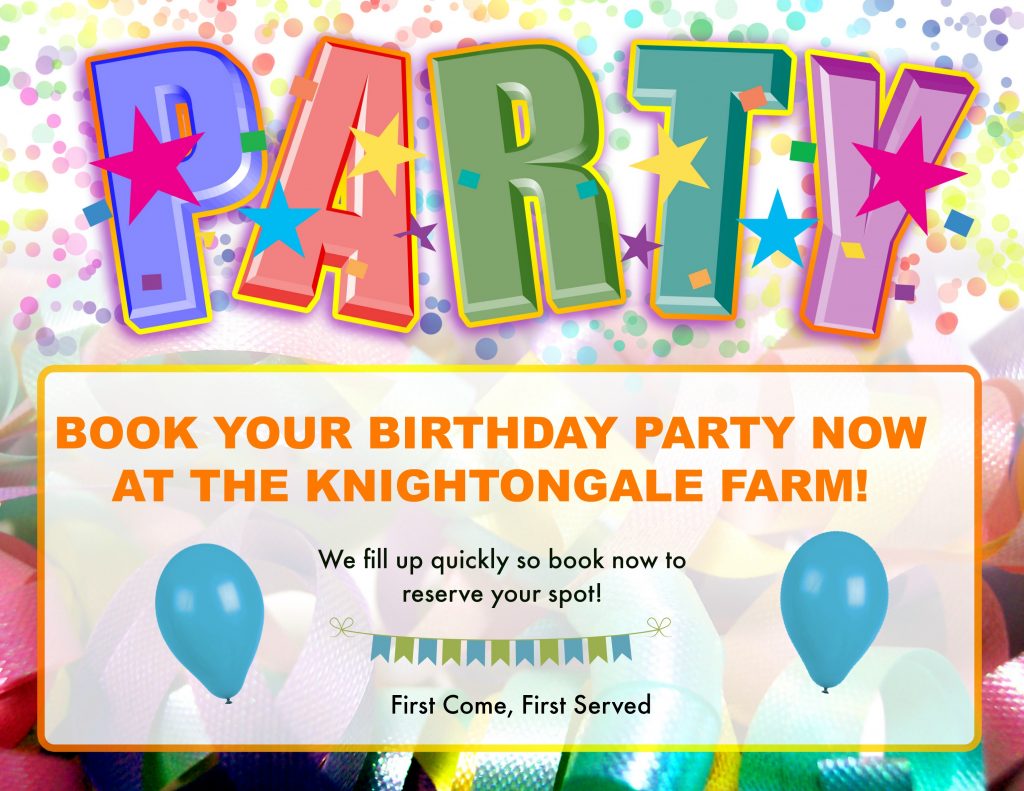 Knightongale Farm is the perfect space for fun, celebration and lots of activities for the kids such as:
U-Pick'em Pumpkin Patch

3-Acre Corn Maze (4 tickets)
Hay Rides (4 tickets)
Pony Rides (6 tickets)
Petting Animals (FREE!)

John Deere Peddle Tractors (FREE!)
Wagons to Use for Pumpkin Picking (FREE!)
Corn Boxes (FREE!)
The Milking Cow (FREE!)
Moon Bounce (3 tickets)
Face Painting (5 tickets)
Tug of War (FREE!)
Lasso Lassie (FREE!)
Pin the Tail on the Pony (FREE!)
Hoppity Hop Ball Ring (FREE!)
Food and Drinks
Straw Bales, Gourds, and Corn Stalks for sale
Straw Bale Playground (FREE!)

We Accept Cash, Checks and Credit Cards and we have an ATM available on the Farm!

And MORE!
If you're ready to book your birthday party (or any type of party) now, follow these 2 steps:
Step 1:  Pay the $75 set-up/clean-up (non-refundable) fee now by clicking the payment button below.  This fee is only refundable if it rains the day of the scheduled birthday party.
Step 2:  Once you have made the $75 payment, then fill out the form below and we will be in touch with you shortly.
A few things to know about birthday parties through us:
There is a 3-hour limit for the birthday parties.  If you need more time, let us know and we can tell you how much that will be.
The $75 set-up/clean-up fee includes:  tables, trashcans, set up and clean up of the party.  You provide your own food, paper products, etc.  There are a lot of local places that will deliver to the farm such as Dominoes Pizza and Pizza Bolis.  There is food on site such as hamburgers, hotdogs, barbecue, drinks, candy, that you can purchase as well.
You can purchase a $15.00 wristband per child for unlimited activities that normally require tickets (such as hay rides, corn maze, moon-bounce) and the wristband will also include 1 FREE Facepainting and 1 FREE Ponyride. The wristband is good for the 3 hour birthday party event only.
We can do morning parties, afternoon parties, or early evening parties.
We fill up quickly, so please reserve your spot by following the 2 steps above to reserve your party date.
If you have any questions, you can reach us in one of two ways:
1.  Give us a call at:  410-320-1363
2.  Send us an email to:  jgreenwell91@gmail.com